The FarrowCam system is built around our award-winning and patented technology, using thermal imaging and artificial intelligence to detect births complications during farrowing.
The camera sends data to your computer and smartphone, providing you a realtime overview of farrowings in general and sows requiring obstetric aid in particular. When obstetric aid is needed, an alarm is sent to the smartphone and red alarm-lights illuminate on the camera itself.
Thanks to this, obstetric aid can be given when required – not too early and not too late. Furthermore, the automatic monitoring eliminates the need for manually checking on the sows and counting the piglets. Farm personel can now spend their time on other tasks, only attending the sows when really necessary.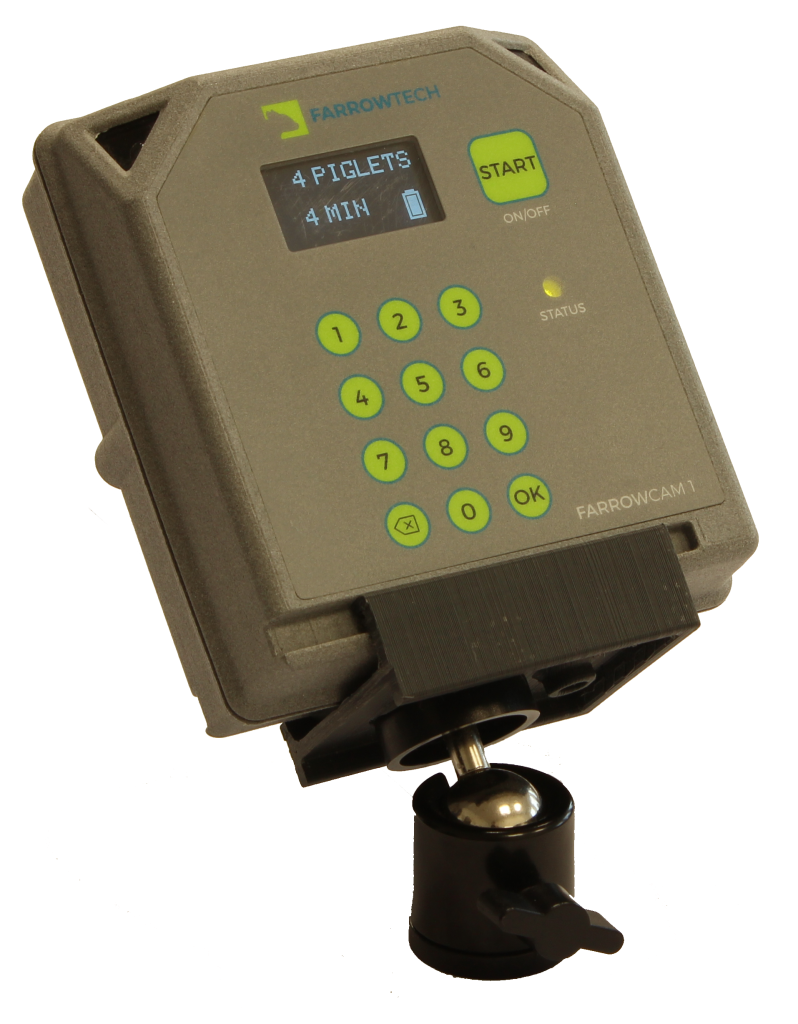 Configuration and use is really quick and simple! Place the camera behind the sow using the spring-loaded clamp provided with it. The unit is powered by a battery, so it can easily be moved to the next sow, when the farrowing is over. No installation and no cables required.
When the camera is not in use, just place it in the wall-mounted charger, and it is ready to use next time.
Detecting piglet births using thermography
FarrowCam uses its patented thermographic analysis method which provides the artificial intelligence system inside the camera with high contrast images of newborn piglets. A newborn is much warmer than its surroundings and cools down rapidly. This pattern is detected by the system.

By measuring the surface temperature of items instead of analyzing the image as seen by the human eye, a much more accurate detection can be obtained, distinguishing the newborn piglet from its siblings. In addition, the system works equally well in daylight and darkness.